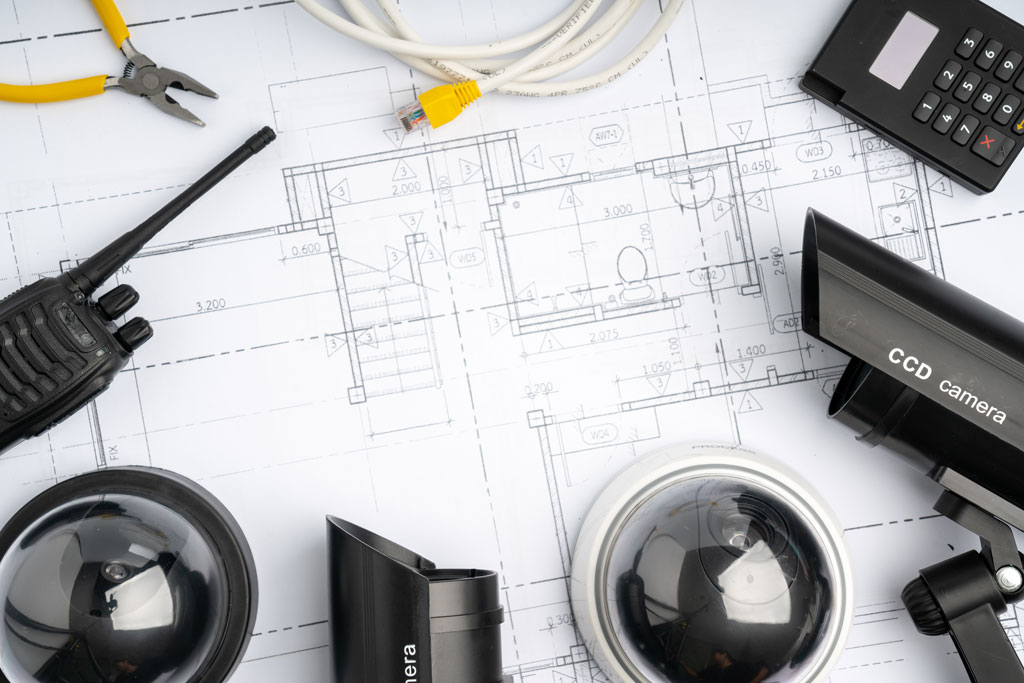 For business owners, cybersecurity concerns become larger every day and span every aspect of technology, including surveillance systems. No longer are video surveillance systems self-contained. Instead, today's CCTV systems are connected to the internet and backed up to the cloud — a modern solution that, while streamlining and improving the surveillance industry, also exposes systems to the possibility of being hacked.
Data that is captured by connected IP security cameras can be used for a variety of nefarious activities by cyber-criminals. However, many organizations have yet to prioritize the cybersecurity protection of their video surveillance systems.
To ensure your security cameras are prepared to defend against cyber threats, taking a variety of simple and efficient steps, such as understanding the vulnerabilities of IoT (internet of things) connected devices, knowing which aspects of your system are the most vulnerable and utilizing industry-proven cybersecurity best practices can help protect your video surveillance systems.
Potential Vulnerabilities to IoT Connected Video Surveillance Systems
IoT devices have become the norm in nearly every aspect of our lives. Smart TVs, wearable devices, smart appliances, security cameras and much more are connected to the internet so they can communicate and interact online. Although this allows users the convenience of controlling or monitoring the devices remotely, IoT functionality opens additional doors in your network for hackers to enter and execute harm to your system.
You may not view your internet-connected security cameras as an urgent threat to your security. However, investing in protecting your video surveillance system is as important as investing in physical security, because IT networks and the devices connected to them (including surveillance cameras) are primary targets for cybercriminals. According to PrivSec.Report, an online resource for the latest news and information on cybercrime and data protection from industry experts, security cameras are the most hacked IoT devices.
Poorly managed or out-of-date networks and their components make systems exceedingly vulnerable to cybersecurity breaches. Examples of poorly maintained networks include:
Incongruous IT and security teams
Outdated or poorly maintained IT security policies (weak passwords on cameras, untrained staff, too many connected cameras, etc.)
Outdated or poorly maintained IT legacy systems, including network equipment and infrastructural components (old cameras, old structured cabling, etc.)
Outdated software
Best Practices for Video Surveillance Cybersecurity
Although IoT devices like security cameras are revolutionizing the video surveillance industry, they are susceptible to being hacked. While no amount of prevention can eliminate cybersecurity risks completely, being proactive in following IP video surveillance system best practices can ensure strong cybersecurity for your organization to mitigate the risk of a breach.
The first step in determining your risk is to find out what known vulnerabilities exist for your cameras. An experienced IT security company like GDS Telecom, a Atlanta-based IT solutions provider and video surveillance installer, can help businesses determine their system's specific vulnerable areas. In addition, organizations can implement best practices such as the following.
Connect video surveillance systems to a separate network from other information systems to minimize risk and save network bandwidth.
Create long, difficult-to-guess passwords for each camera if you are not using a VPN. If using a VPN, have one password for all cameras that is long, contains multiple characters and is difficult to guess.
Change all passwords every three months.
Use a firewall.
Enable two-factor authentication for the security system. This means users will have to provide another authentication (such as a code sent by text or email, answers to security questions, or ID verification) to access the system.
Establish a workplace culture that prioritizes cybersecurity with regular staff training sessions, cybersecurity education and network policies.
Determine what your incident response plan is for potential breaches.
Regularly install software updates.
Partner with a trusted IT security provider.
How GDS Can Help
The cybersecurity threat landscape is growing every single day. For businesses and other organizations, it can be a daunting task to try and manage video surveillance cybersecurity on their own.
At GDS, our video surveillance installers take cybersecurity seriously. Our goal is to create secure IT solutions for our clients so they can focus their attention on what they do best — serving their clients and customers.
For businesses or organizations that need help creating an ironclad cybersecurity solution for their video surveillance system, our experienced staff of IT experts can help. We specialize in creating comprehensive IT security solutions including surveillance systems and network solutions like structured cabling and network security.
Whether you are looking to update a legacy system or install a new system altogether, GDS can help you choose the right video surveillance technology for your needs and configure a security camera solution that is effective and secure.